---
How to loan
an artwork
---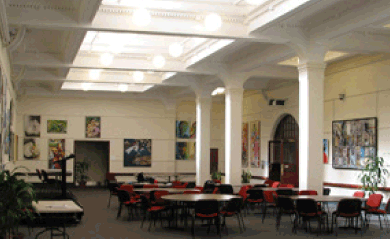 Create a Wishlist
1. View works in "Browse the collection"
2. Add items to your Wishlist by selecting the plus icon
3. Review your Wishlist and Submit selections
OR
Submit the online Request Form:
Alternatively, you may want to enter the details of the works you want to request. You can do that through the online Request Form.
---
Office requirements:
The preferred method of hanging artworks from The Wilkins Collection is tracking and cables. Tracking allows greater flexibility in the type and number of artworks that can be supplied. If you do not have this facility we suggest that you arrange for tracking to be installed. We do not provide installation services.
---
How to return a work:
1. Submit the online Return Form
N.B. It may take several weeks to fulfil your request